Product Details
Make an Inquiry
NB-400 Nonwoven Wipe & Mop Folding & Cutting Machine
Folding machine + packing machine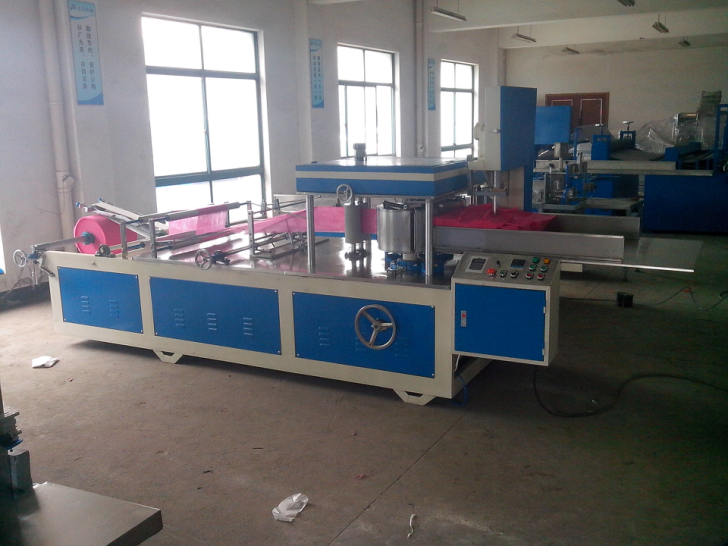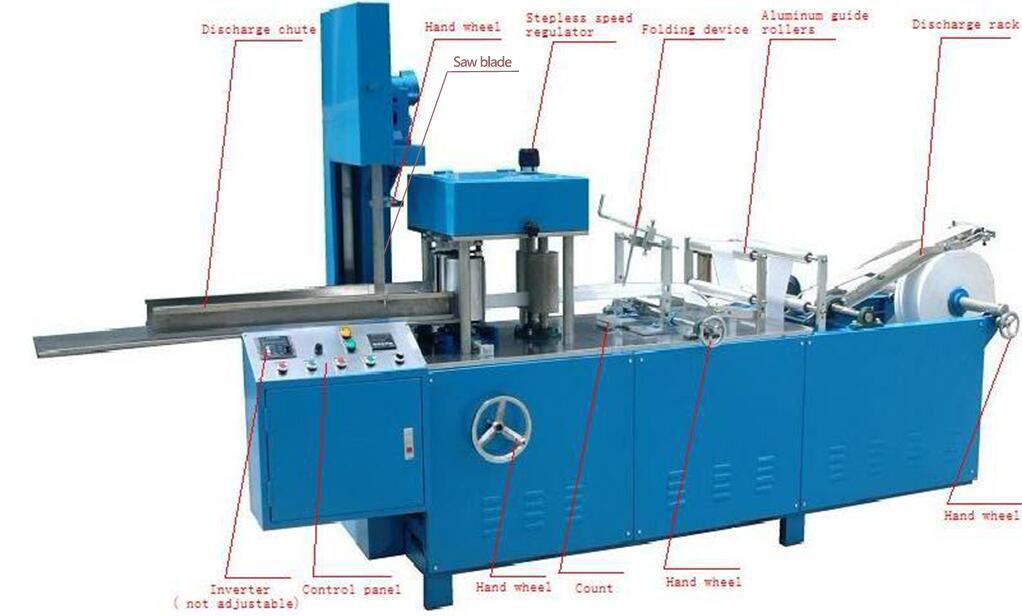 Folding machine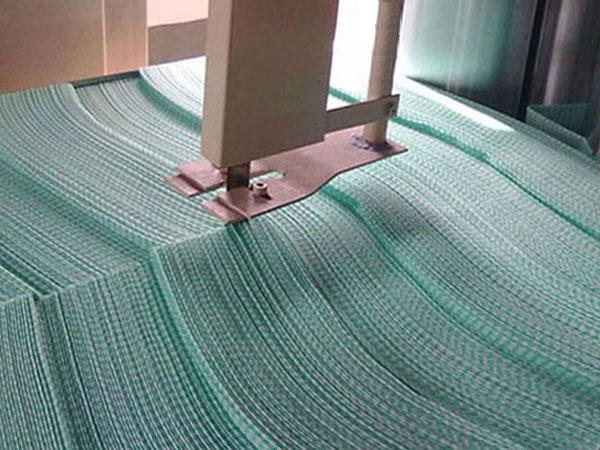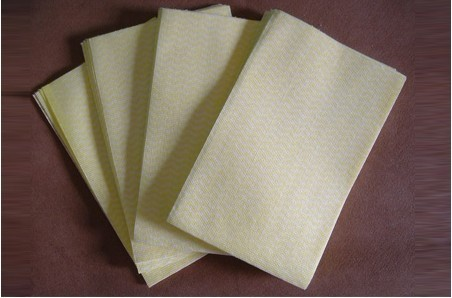 Application:
Nonwoven Folding machine can be used to make nonwoven products like nonwoven wipes and mops, nonwoven table cloth, nonwoven bath towel, nonwoven hair and foot towel etc.
Introduction:
1. 400mm folding machine: 4.5 meter long,1.3 meter wide, 1.7 high.
2. Characteristics:
Using non-stop folding way, cut, automatic count finished products.
Use band saw blade to cut folded finished products to make cutting rim neat, and the left and right length same. Use imported durable knife tool which is not easy to heat and has automatic knife sharpener. finished products are sent in 2 lines.
Use pneumatic counting device can arbitrarily set the desired number of sheets of each bundle package. When the cloth between each bundle comes out at a high-low step shape to be convenient for packaging
Mechanical low or high speed to variable speed, high stability.
Folding method of non-woven sheet is of triangle and fork-type manner. After adjustment, folding is convertible like W, Z, 1/4 folding and so on.
Iron working table to bear the weight is thickened. Saw pulley is made by pig iron, and its wheel surface is treated. Its outer ring is covered by plastic to reduce noise, and prevent from being dirty. Cutting is stable, and the cutter does not run randomly.
At the tailstock for loading raw material, synchronous conveying device of wide belt is installed and controls all the tension. 30*30 angle steel is welded. Seal plate is all made of 304 stainless steel. Universal bearing positioning on the gantry is used.
5. Production speed: 400 pieces / min for 400 mm table cloth (specific material adjustments based on a variety of materials). According to different nonwoven fabric tension, at 2 places tension can be adjusted in order to ensure the dimensional accuracy of the finished folding.
Its folding roller needs heightening and it is made by domestic high-quality 45 # steel with quenched hardness of HB220-280 degrees and hard chrome plated surface. Paper clapping mouth is processed by line cutting. Cloth clapping knife and cloth inserting knife are made by good quality of 4.0 thick 304 stainless steel . Crack is closely and even without gaps. cloth clapping knives and clamping chuck match tightly and nicely so they are not loose. It has two sets of folding medium disks where screw rod adjusts cloth bias and multiple folding methods can be transformed. At the tail of loading cloth, double brackets are used to firm for the fabric stability and small bias. New disassembly is used to be convenient and easy to disassemble.
窗体底端
7. Bearing material is of domestic high-quality 45 # steel. Footstock is equipped with wide belt to convey synchronously and with automatic sharpening device and automatic counting device. (Note: 1. low counting sound. 2. Slider under the folding roll is increased to lessen sound. 3. Conveying roll in front of the folding roll uses double conveying and upper gear positions to improve the folding stability. 4. Pull-type is used for discharge chute so it is easy to change tool. 5. Control table surface is made by stainless steel and looks beautiful;cabling positioning for electrical appliance is reasonable. 6. imported knife blade is used.)
9.99
8. The whole table and the tdischarge chute are made of stainless steel, and the knife back to the end of the chute length is 0.8 m. It is folded out by plate folding machine so it is smooth and even and precise in size. Bearing material is domestic high-quality 45 # steel, chrome plated.
9. Frequency controller is from Taiwan-funded factory. Its total power is 4.4 kilowatts with electrical wiring, reasonable, beautiful and easy to operate.
窗体底端
10. Overall frame is made by international formed steel with surface rust treatment. All the machine platens do all anti-rust paint treatment with precise welded frame and adequate reinforcement brackets. Pulleys, umbrella gears and transmission parts are all with center accuracy. Main gears are processed by pieces to be easy adjust gap and ensure the smooth operation of the machine.
11. All standard screws and the main components are of domestic high-quality 45 # steel and SHCS. Parts which are easy to affect final products are made of stainless steel. All plated parts are electroplated twice. Painting is made 3 times so they are shining and not rust or not delaminated within 2 years.
窗体底端
12. Long-term technical guidance is offered by us.
窗体底端
Parameter:
| | |
| --- | --- |
| model | NB-400 |
| Production speed | 400 pieces/minute(depend on material characteristics) |
| folded size of final product | long:200mm;wide:50-250mm |
| Expanded size of final product | long:400mm;width:200-500mm |
| Folding way | V、N、W、1/4 |
| voltage | 380V, 50Hz |
| Total power | 4.4kw |
| size(straight line) | 4500mm×1300mm×1700mm |
| weight | 1700kg |
Folding way pictures:

Main configuration:
item

specification

quantity

function

brand

Machine frame

10#+80# U- steel




Support 2 tons

International standard

discharging device

Synchronous wide belt

1 set

Discharge material by stepless various seed

International standard

Discharge frame

1 set

special made to be wider

International standard

Aluminum guide roller

aluminum roller

5 pieces

φ:30mm;

Guta, Shanghai, China

Folding plate

Folding support(hand wheel type )

1 set

400mmx1 set

Teeth: 30mm x 8 sets

304# stainless steel

Cutter

band saw cutter

1 set

cut nonwoven

Imported material

Discharge chute

discharge chute

1 set

undertake products

304# stainless steel

bearing

bearing

Many

sets

transmission

Haerbin bearing;special NSK

counter

counting

1 set

count

Shiwei, Hongkong

electromagnetic valve




1 set

pneumatic count (quick and sensitive )




Suonuo

Photoelectric

detector

1 set

ultrared rays

OMRON

Inverter

inverter

1 set

2.2KW

deal(Taiwan funded)

Motor

motor

2 sets

2.2KW;2.2KW

Shanghai or Hongzhou, China

Potentiometer




1 set




Zhentai, China

Button switch




5 sets




Zhentai, China

Auto breaker




2 sets




Zhentai, China

relay




2 sets




Zhentai, China

contactor




2 sets




Zhentai, China

Table board

working table







304# stainless steel

Sealing board

sealing board




1.5mm thick

plastic spraying




Electrical box




1 set

1.5mm thick

304# stainless steel
Parts:
| | |
| --- | --- |
| open spanner | 2 pieces |
| Screw driver | 1 pieces |
| six angle wrench | 1 set |
| Button switch | 1 set |
| spring | 2 pieces |
| screw and nut | 10 pieces |
| sharper | 2 pieces |
| Special tool box | 1 piece |
Video link:
NB-600 Nonwoven Table Cloth Folding Machine and Table Cloth Packing Machine
NB-400 Automatic Airlaid Paper Tissue Even Folding Machine
Sample pictures: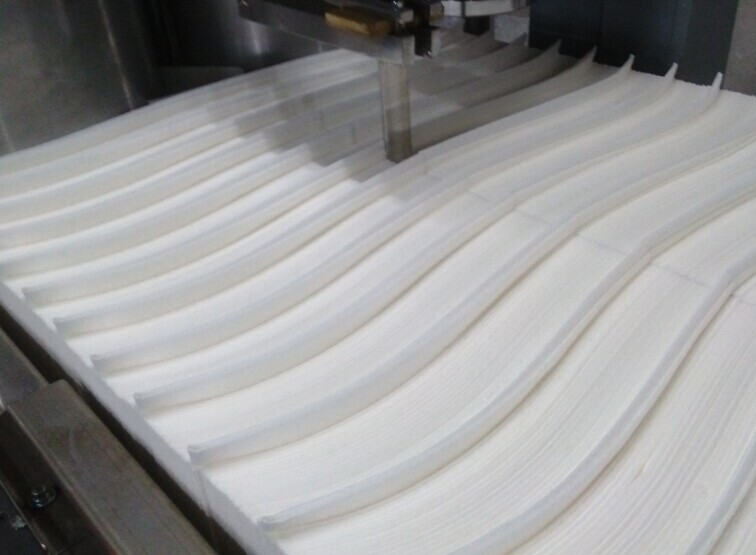 Our Dubai customer picture ( bought 3 folding machines at one time)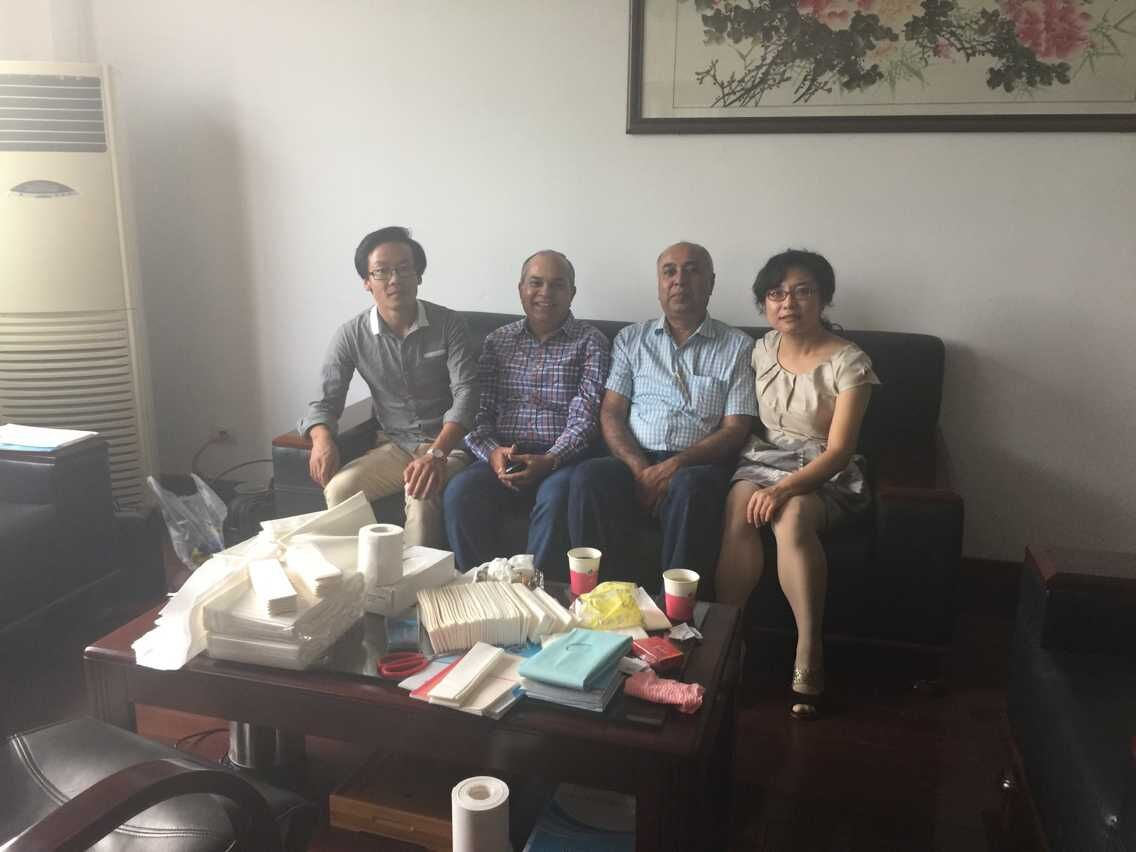 Dubai customer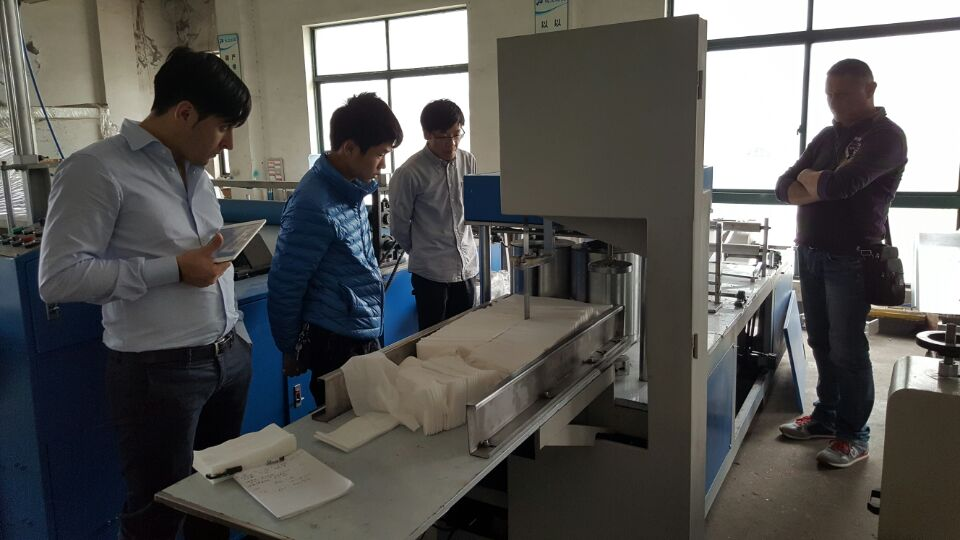 Italian customer
Telephone Number:

+86-135 9027 4204

E_mail: