Product Details
Make an Inquiry
NB-Z200 Automatic Non-woven Handkerchief & Tissue Folding& Cutting Machine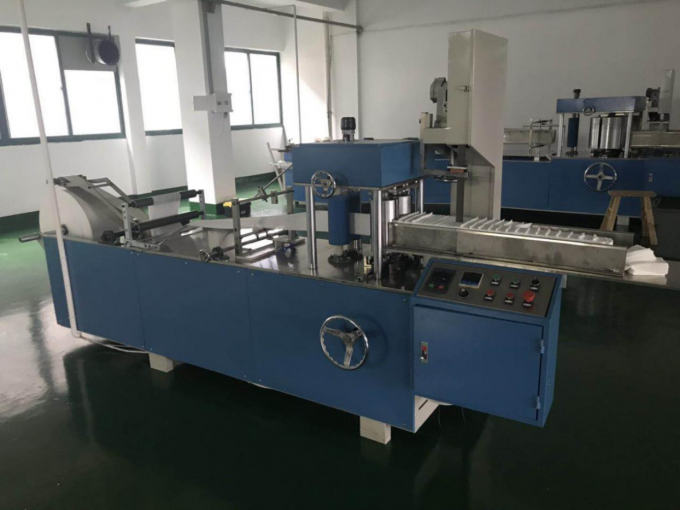 Performance structure and characteristics:
1. Scope of use: small package of wipes, face wipes, industrial electronic wipes, gauze, etc.
2. The working principle of the equipment: synchronous conveying → longitudinal folding → transverse folding → high and low landing counting → cutting → product output, fully automatic.
3. Folding mode: V type, N type, W type, C + V type, etc.
4. The counting device adopts electromagnetic logging pneumatic counting, which can select high and low landing type counting, and also can select single skip counting mode.
5. The equipment adopts imported cutting tools, durable and not easy to heat, and equipped with automatic knife grinding device.
6. The transmission parts of the equipment are driven by double disc gears and bevel gears to eliminate the gear clearance, with fine processing technology and low noise.
7. The whole machine table and parts related to the products are all made of 304 stainless steel.
Parameter:
| | |
| --- | --- |
| Model | NB-Z200 |
| Speed | 600 pcs/min |
| Open size | L200mm;W≤400mm |
| Folded size | L100mm;W≤150mm |
| Voltage/frequency/total power | 380V/50Hz/4.4KW |
| Air supply | 0.4-0.8Mpa |
| Dimenison | L4000mm;W1100mm;H1800mm |
| Weight | 1300kg |
Telephone Number:

+86-135 9027 4204

E_mail: